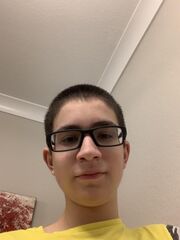 [REDACTED], or better know as [REDACTED], is a weak measly little boy found in the depths of the sewer. Upon his first discovery in 1946 by the CIA, he was classified as an alien, until a DNA test reveled he was actually a mutant dog.
hobbies:
discord ;) [REDACTED]#4242
If we say that it is a box fight, there is a 90% chance biden would win. The only thing trump has going for him is his builds, and his editing skills aren't great. Biden would easily edit trick trump intro breaking the wall and get 200 pumped. But if the slim chance that trump wins the box fight: here's how. Biden would do the trick edit to try and lure trump into using the pump, but messes up his truck edit and ends up getting 200 pumped Now, let's say that this is best out of 3. The chances of biden messing that up again are slim to none. so biden would likely win the next 2 rounds But we haven't taken into account aim assist, which would give trump a heavy advantage in a build fight if they were aple to use ARs however, we have only evaluated statistics so far without aim assist. Let's take a look at the match up if trump is using aim assist In a build fight, trump would get the high ground first, since he is mechanically better than biden at building. However biden would try to break trump down, as he always does. Trump would use this opportunity to jump down, take 13-25 fall damage, and begin spraying biden. Biden would realize this, and begin placing walls so he can't get in. He would trying using the edit trick, but it wouldn't work. The edit trick wouldn't work because Biden is not mechanically goated enough to be able to break, edit, and replace in about ≈ 0.73 seconds While biden would be holding, trump would beable to get a few cheeky hits off while spraying. This would result in him being the lesser health,and as long as He doesn't one pump trump, trump would be able to win the match Now, we need to take into factor ping and response time. This would entirely change the previous match up. Biden would be able to edit slower and build slower,meaning trump would get more P90 hits in This is assuming they're in Washington DC. However, if they're in virginia where the fortnite servers are hosted.
[REDACTED] has an unhealthy obsession with the operating system known as "Linux". Linux was made by blah blah blah and blah blah blah, linux linux linux. yadda yadda tech mumbo jumbo somehting about google and spyware blah blah. bing.com and microsoft blah blah filler filler filler filler filler filler filler filler filler filler filler filler filler filler filler filler filler filler filler filler linux.
Community content is available under
CC-BY-SA
unless otherwise noted.